Vision RT - more effective radiotherapy
best medical equipment with NewMedTech
The best price for equipment for your clinic
Vision RT technologies in your country
NMTG - official distributor of innovation medical equipment
Professional service maintenance in every country when we work
Consultation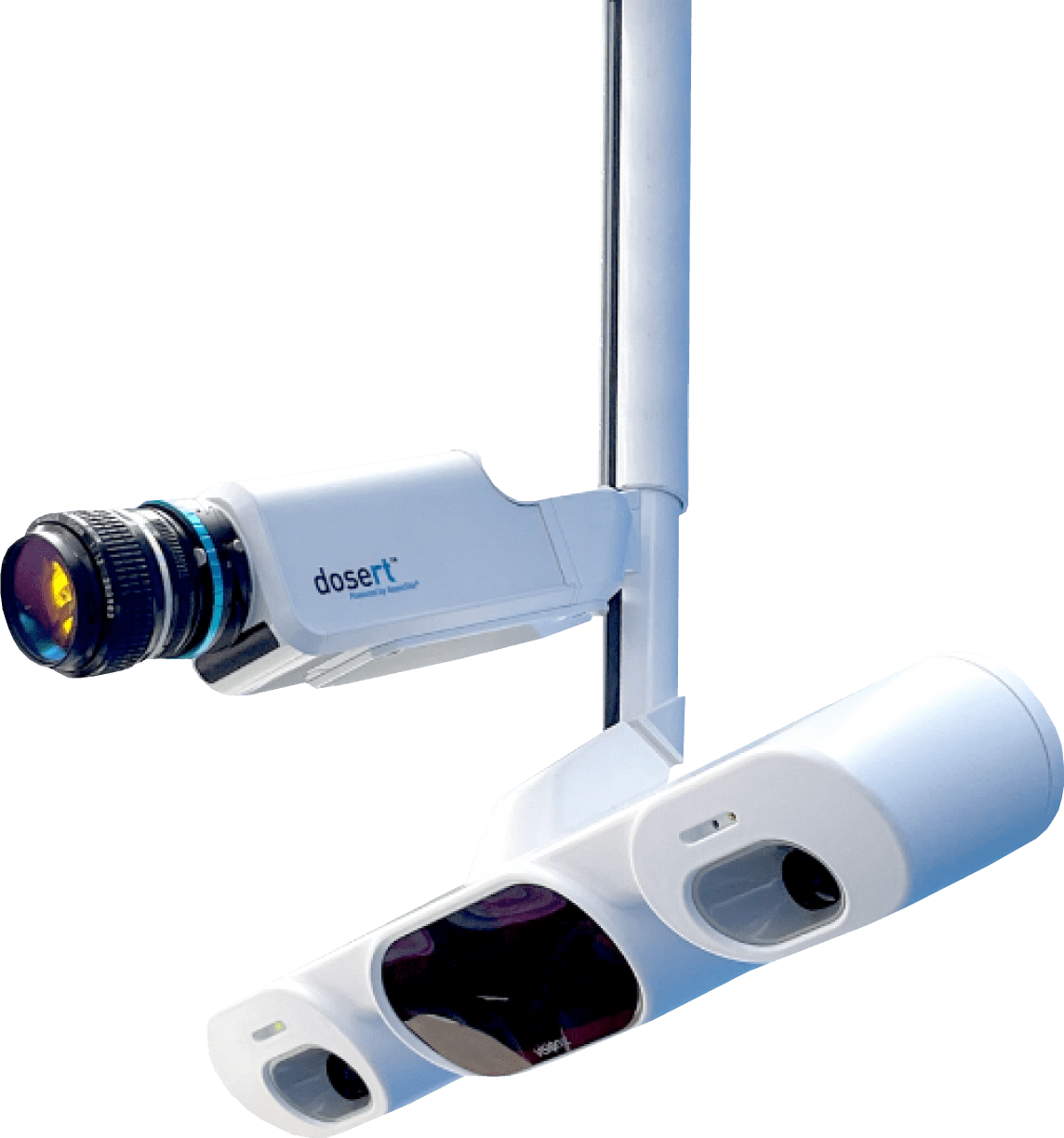 Vision RT - innovative technologies of radiotherapy
Safe, accurate and more comfortable
Vision RT provides motion control for hypofractionation and delivery of higher doses in fewer sessions. Such a technique is becoming more and more common in radiotherapy due to increased accuracy and reduced risk for the patient.

With Vision RT, clinics can implement techniques such as deep breath hold (DIBH), stereotaxic radiosurgery (SRS), stereotaxic body radiation therapy (SBRT), and tattoo- and stain-free radiation therapy – with increased safety, precision and patient comfort.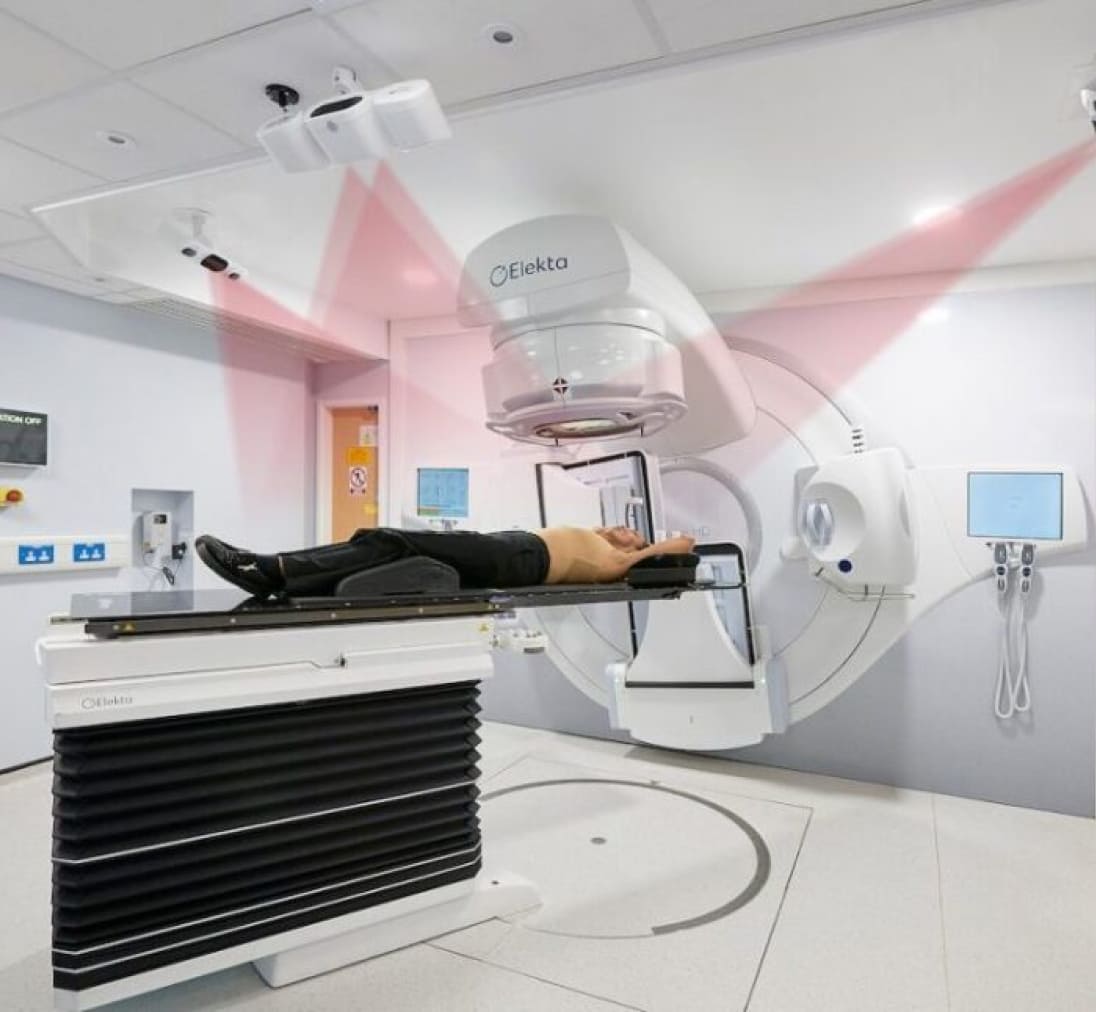 Vision RT - inventor of SGRT
SGRT - Surface Guided Radiation Therapy

2000+
More than 2000 systems are used in the world

15 of 15
15 of the top 15 cancer clinics in the US use our systems

200+
Proven clinical results in more than 200 articles in peer-reviewed journals

70+
Vision RT - pioneer of SGRT from first principles with more than 70 granted patents.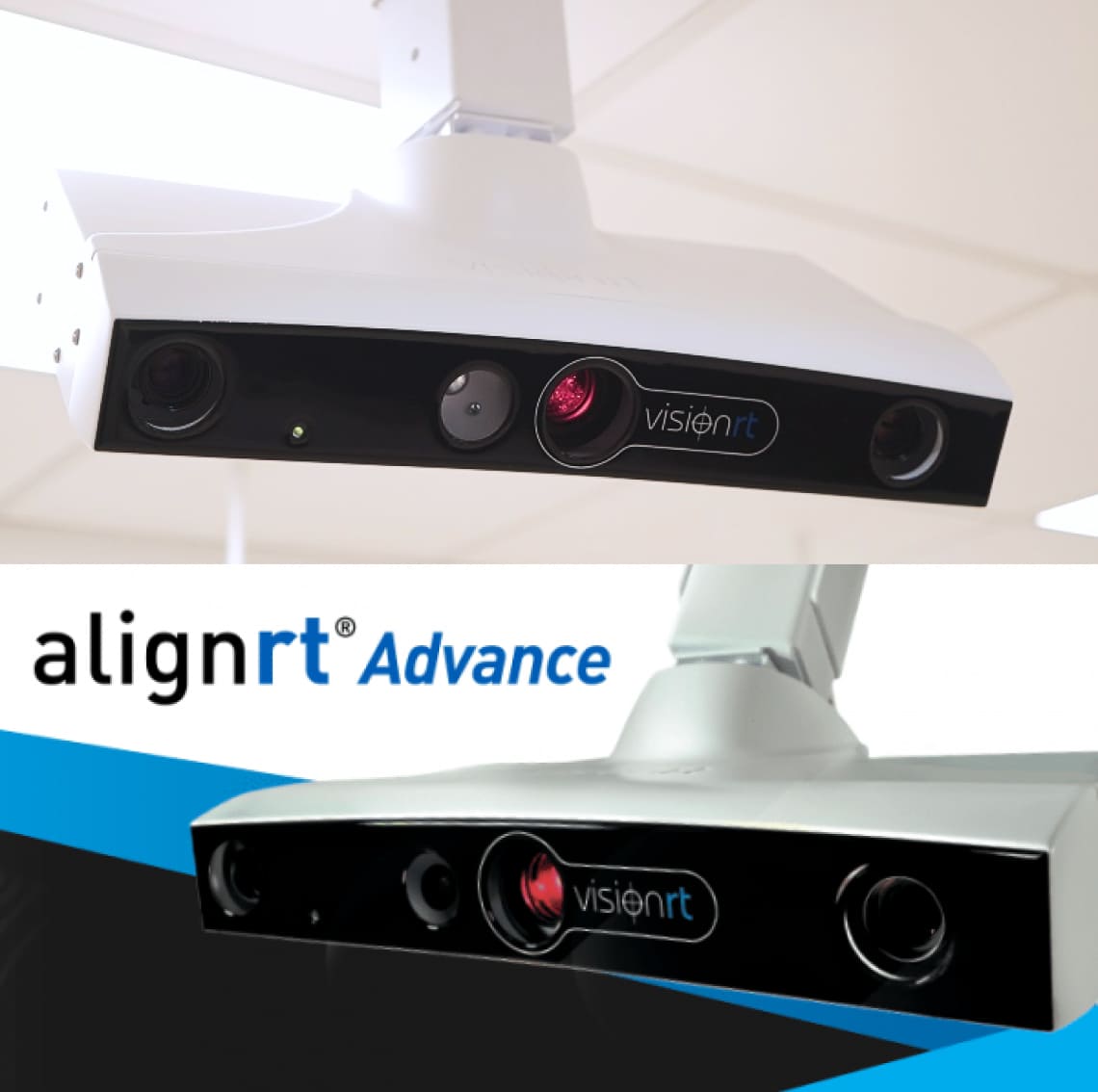 AlignRT
AlignRT is at the center of Vision RT's Surface Guided Radiation Therapy (SGRT) solutions. AlignRT is a system that allows you to tracks a patient's position before and during radiation therapy, to aid in setup and treatment accuracy.

An entirely contact-free and non-invasive technology, AlignRT uses 3D stereo cameras to track the skin's surface and compare it to the ideal position in the treatment plan.

AlignRT track the position with submillimeter accuracy and can automatically signal for the treatment delivery system to pause the radiation beam if the patient moves out of the desired position. It eliminates the need for radiation therapy tattoos or headframes and closed masks for SRS.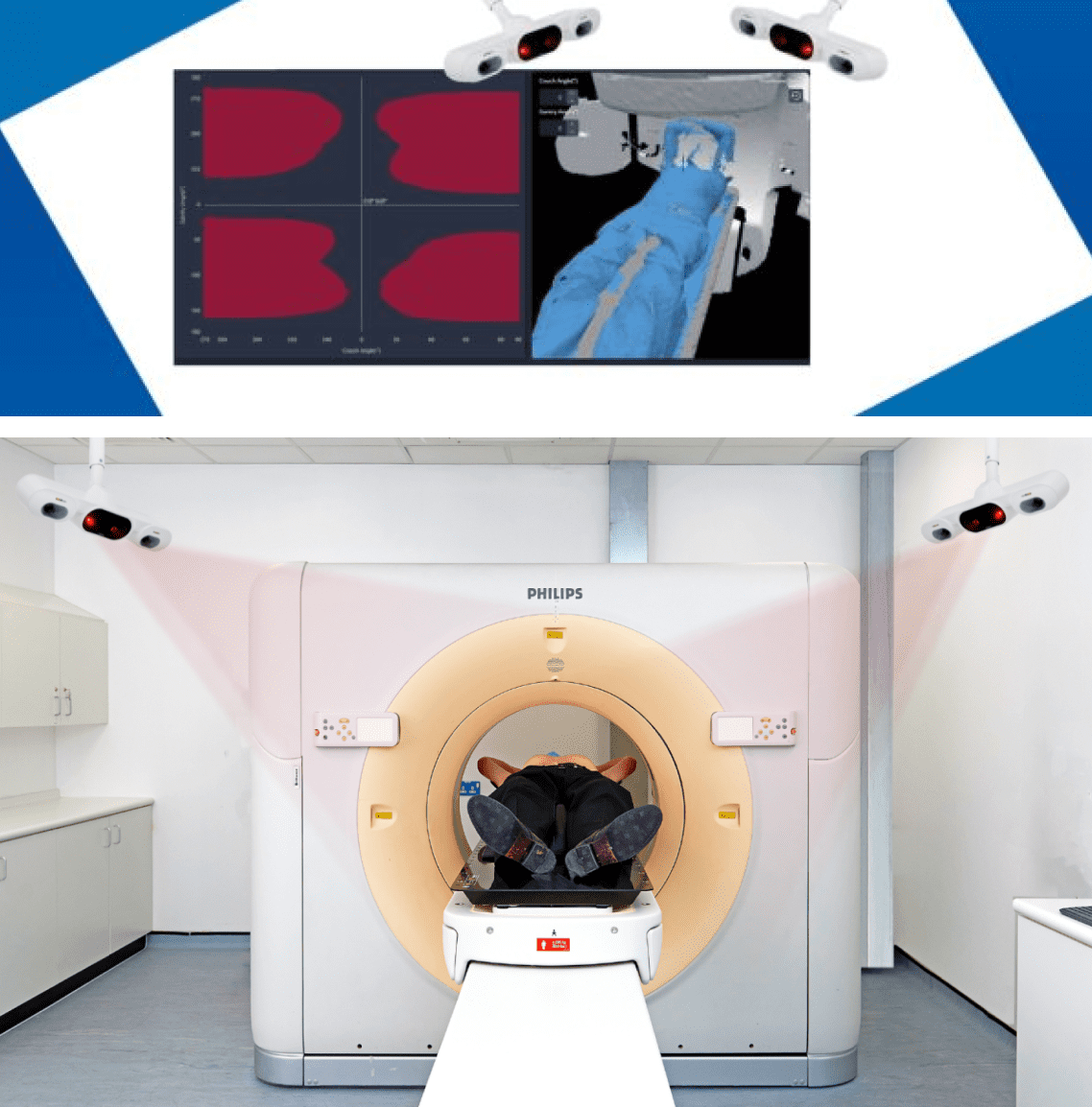 MapRT
MapRT is new solution from Vision RT is intended to make non-coplanar treatments fast, easy and safe. MapRT uses SGRT to deliver a "clearance map", which planners use to check which beams are deliverable during plan creation.

Unlike other clearance checkers, MapRT images the entire surface of the patient and accessories to detect collisions in the most frequent problem areas such as elbows. In addition, the clearance map checks safety for all couch and gantry angles, so planners have guidance to increase couch kicks and lengthen arcs – for better plans with confidence in delivery.

*Note that traditionally, non-coplanar treatments are resource-intensive, requiring extra planning and machine time, both for dry runs and treatments. Our solution avoids these problems.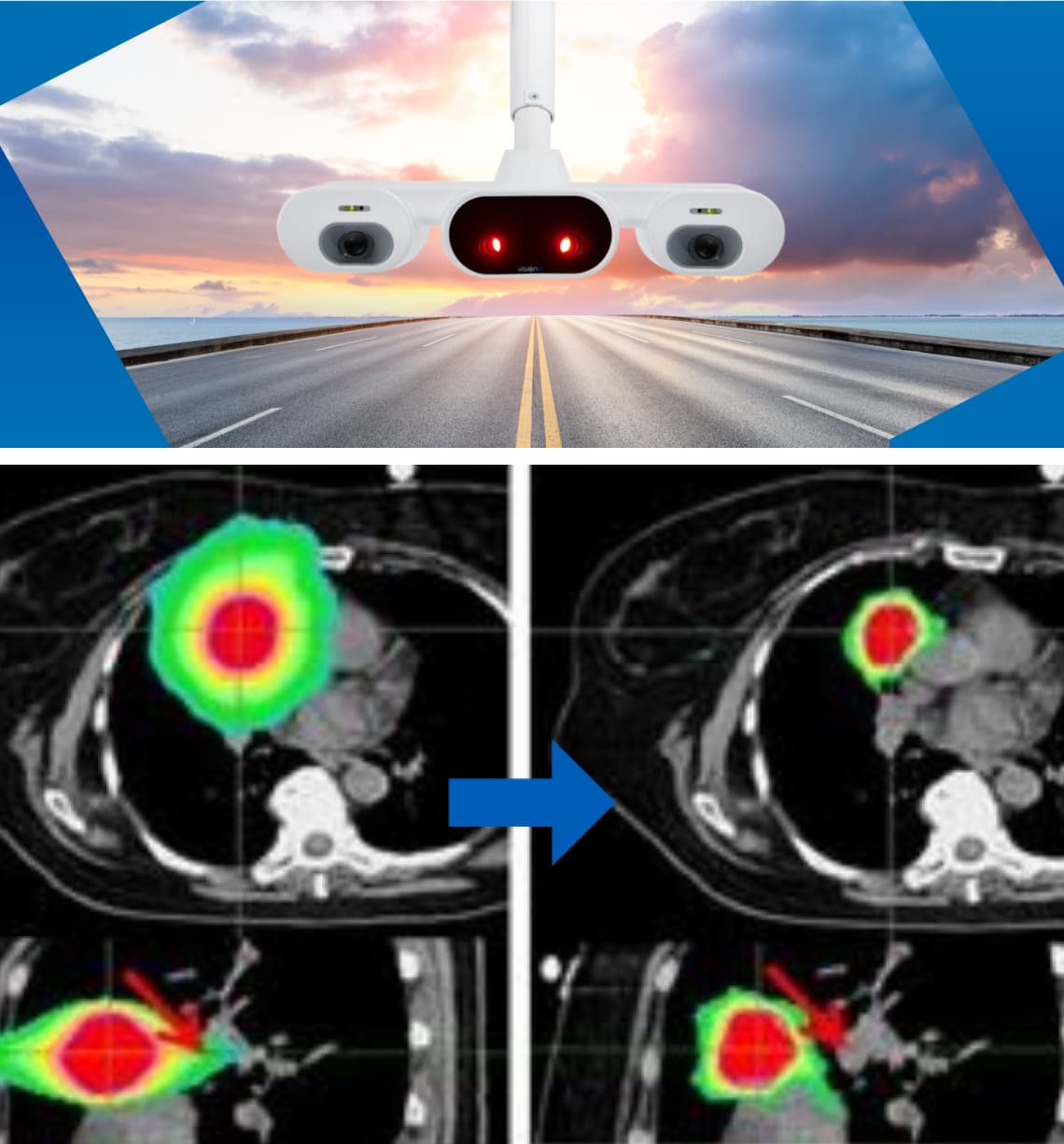 Horizon
Our 3D cameras are trusted for their accuracy and efficiency by cancer centers globally. Horizon cameras is more than 2,000 systems in clinical use and 20 years of experience in SGRT.

Horizon cameras with AlignRT Advance software create new possibilities for radiation therapy.
Work every angle for optimal treatment plans.
Automatic dry run before every treatment.
Enables real-time beam visualization with DoseRT™.
DoseRT - innovation camera
8MP wide field of view capability
Widest projection coverage
Cherenkov Imaging compatible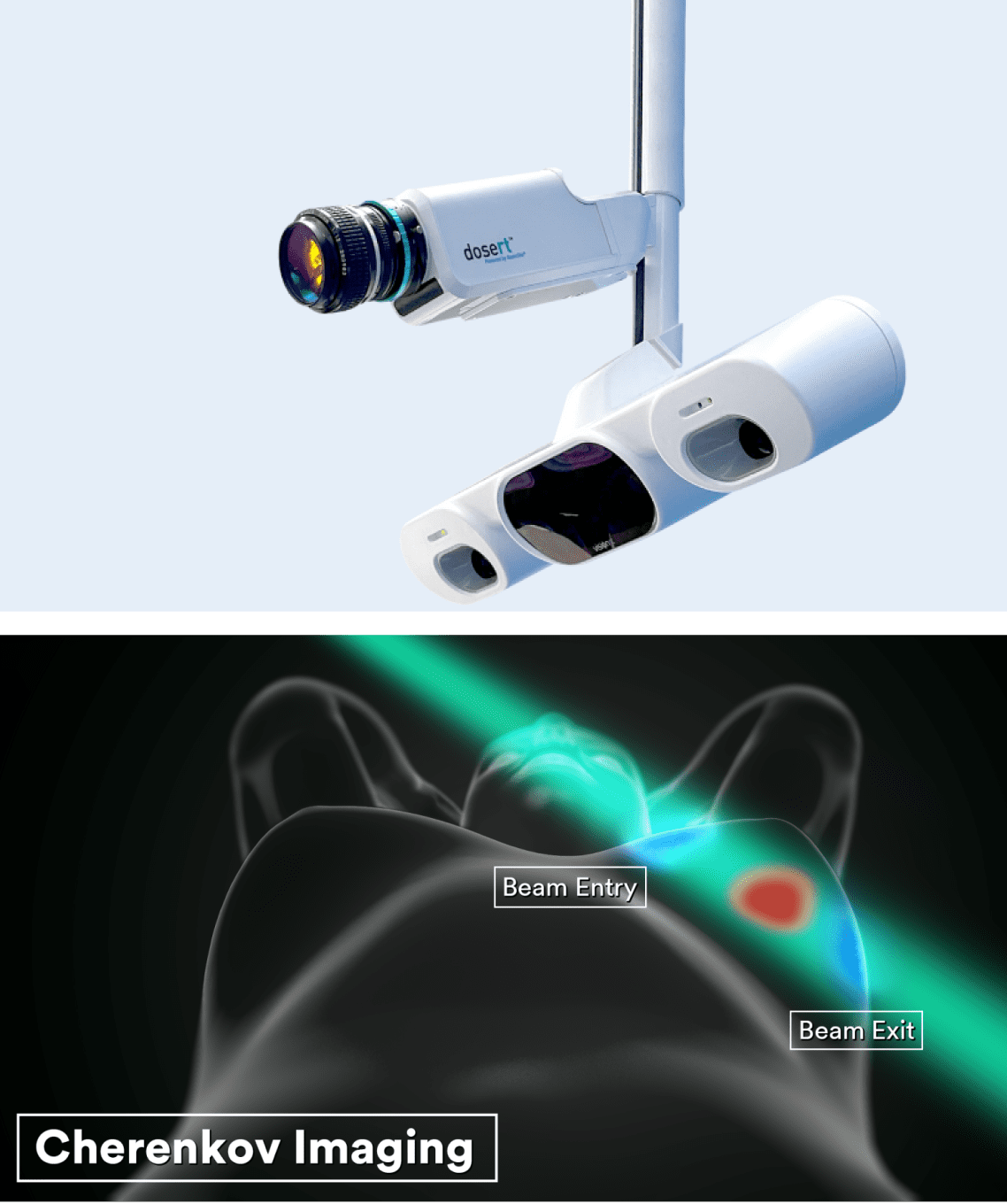 DoseRT
Revolutionize Treatment with Real-Time Dose Visualization & Patient Position Monitoring

DoseRT is a breakthrough technology that combines Cherenkov Imaging with AlignRT® and Horizon cameras, providing real-time visualization of dose delivery and patient positioning to prevent errors and improve clinical outcomes.

DoseRT provides real-time in-vivo images of dose delivery while monitoring patient positioning to ensure treatment quality.

Cherenkov imaging has been clinically tested on breast, head & neck, lung, and SRS.

DoseRT in monitor

Dose Visualization Can Help Prevent Treatment Errors In Real Time

We are recommended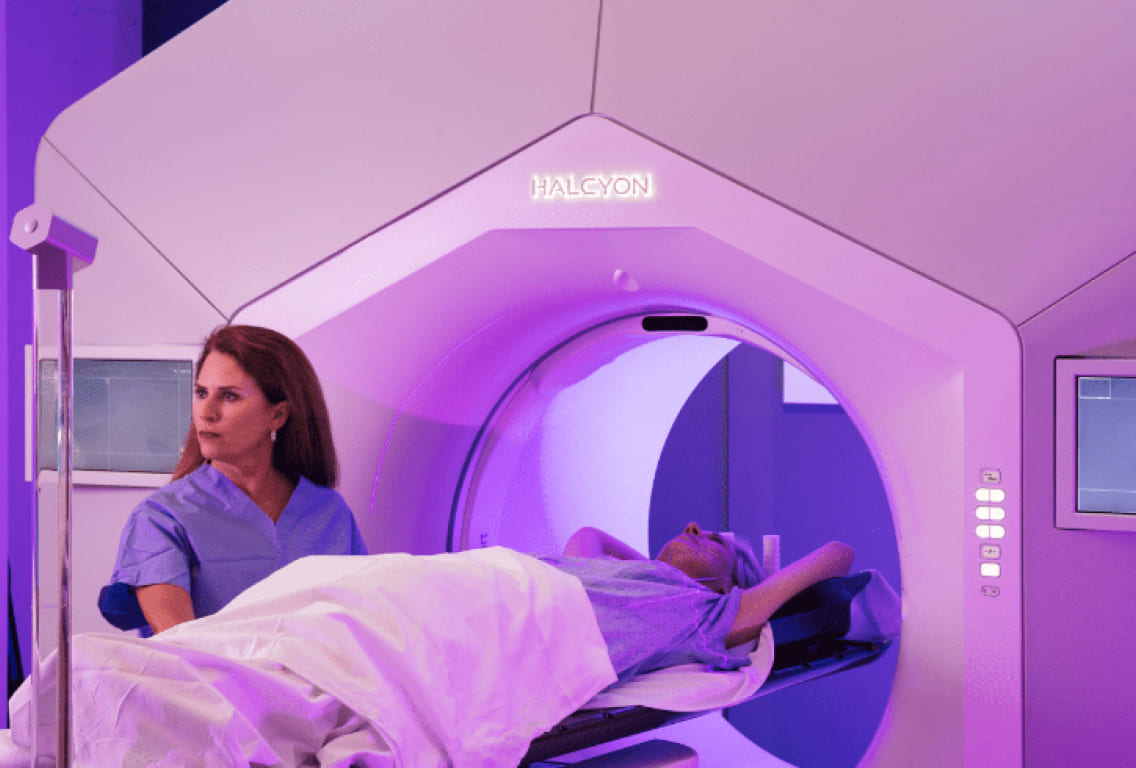 AlignRT InBore
AlignRT InBore combines the benefits of ceiling mounted AlignRT Advance camera pods for patient setup, with an innovative, miniaturized SGRT ring camera system mounted within the bore for 6DoF intra-fraction monitoring, including DIBH and stereotactic treatments.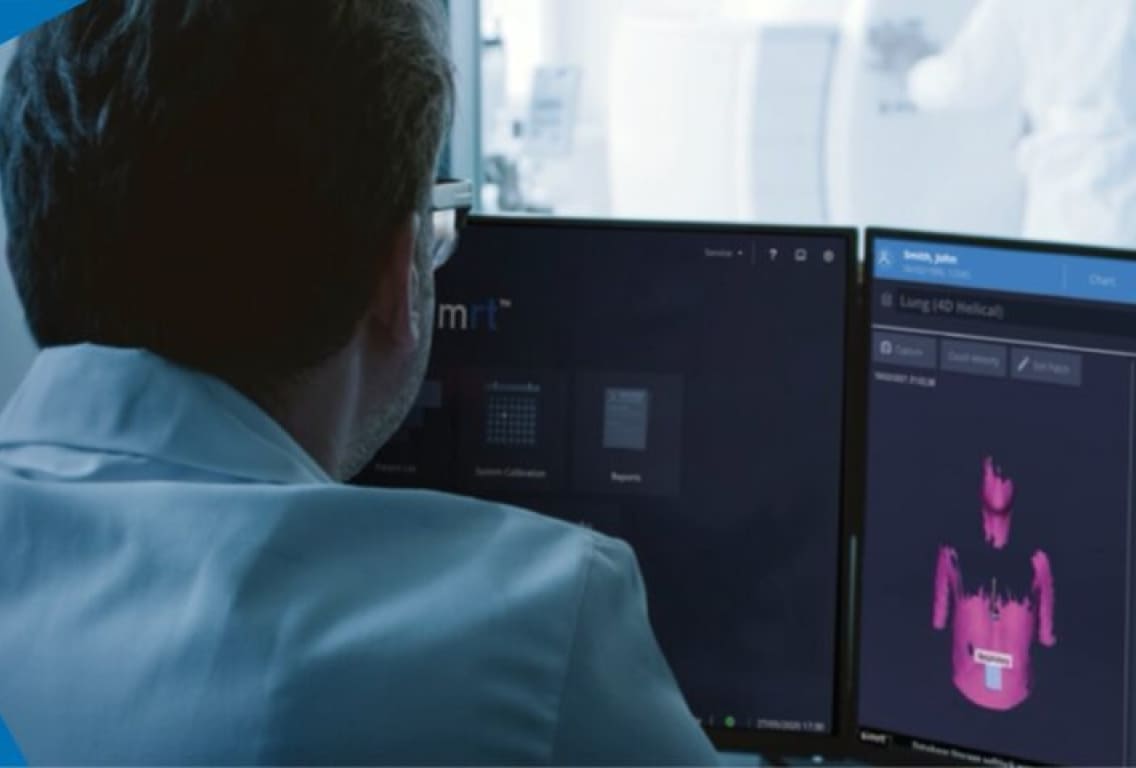 SimRT
AlignRT InBore combines the benefits of ceiling mounted AlignRT Advance camera pods for patient setup, with an innovative, miniaturized SGRT ring camera system mounted within the bore for 6DoF intra-fraction monitoring, including DIBH and stereotactic treatments.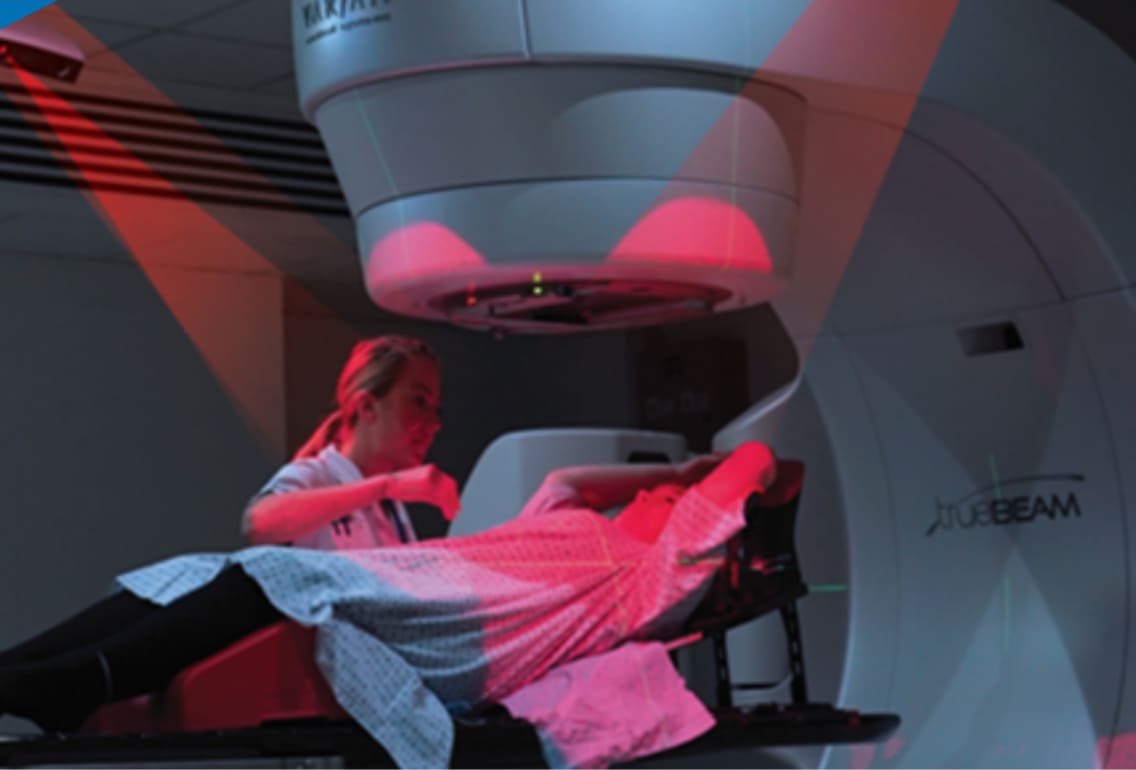 Postural Video
The Postural Video module gives you a multi-angle, real-time view of the patient's overall alignment relative to their reference position during setup and monitoring by using an outline of the reference surface and a live video stream of the patient.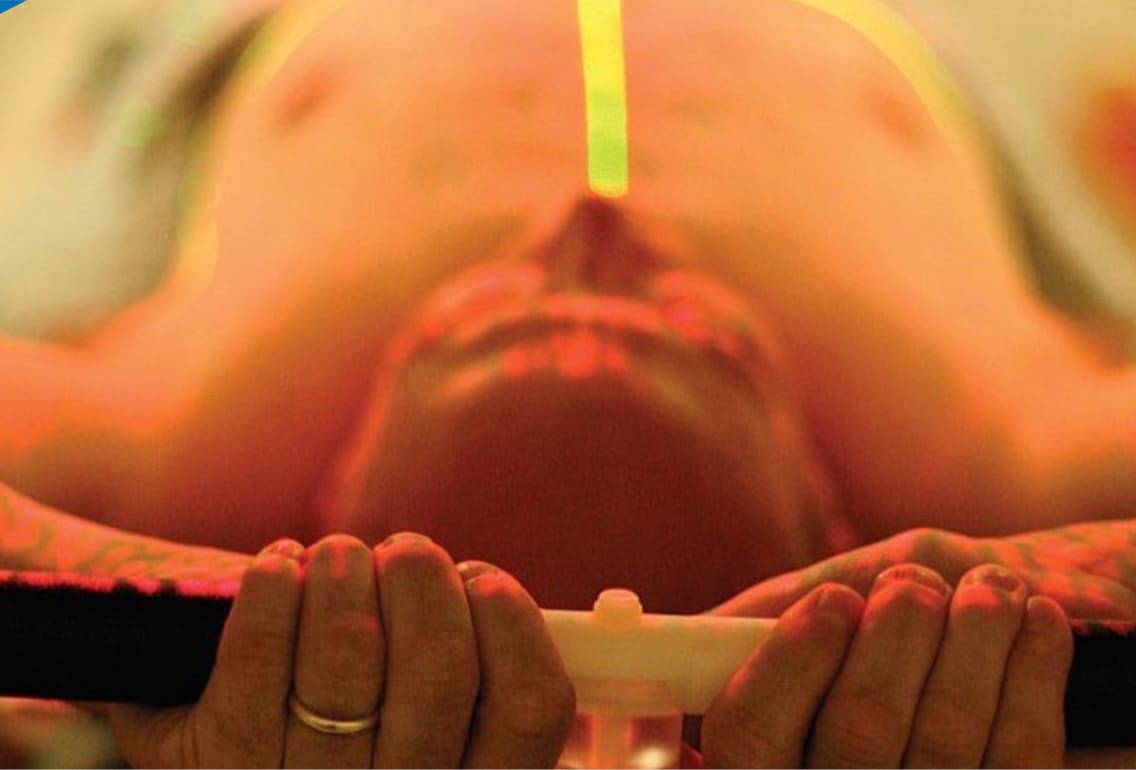 GateCT
GateCT offers a flexible solution to many of the challenges of 4DCT, using a single stereo camera unit which tracks the patient during CT acquisition.
Benefits include: marker-less, intuitive, non-invasive and no ionizing radiation.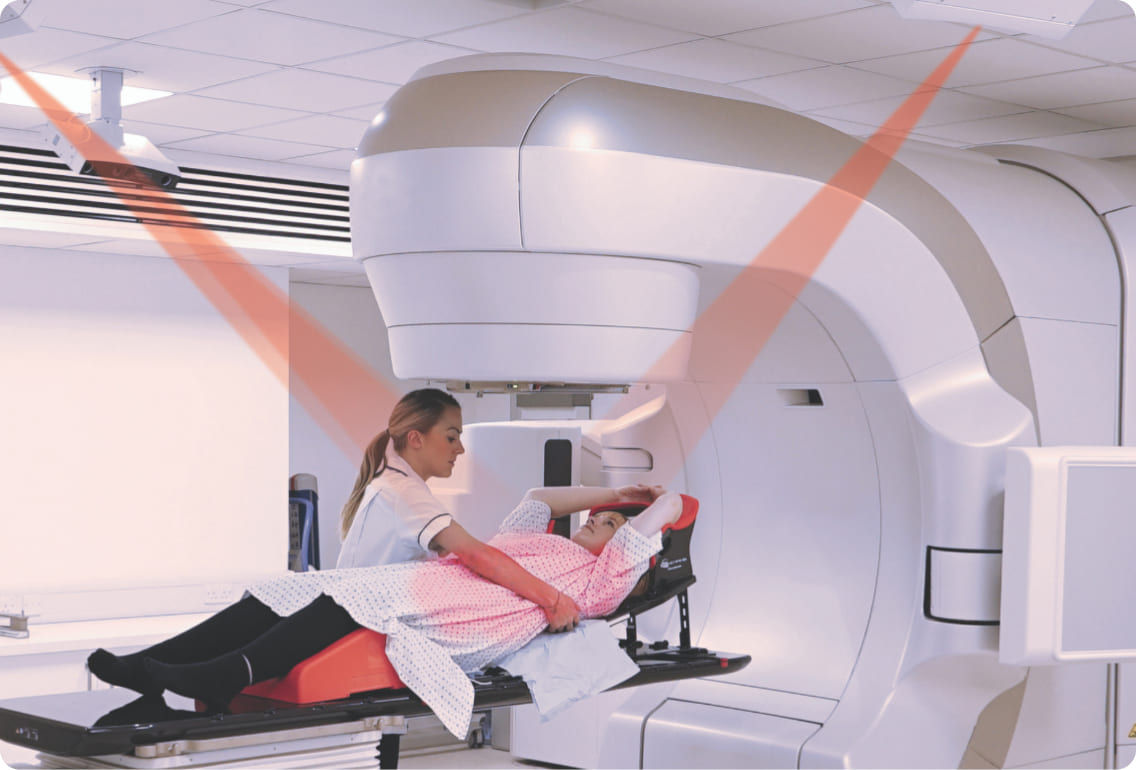 GateRT
GateRT® facilitates free-breathing gating of the beam through real-time optical tracking of respiratory motion.
If the patient moves beyond a specified distance out of position or if any abnormal breathing occurs, the radiation beam can be held automatically..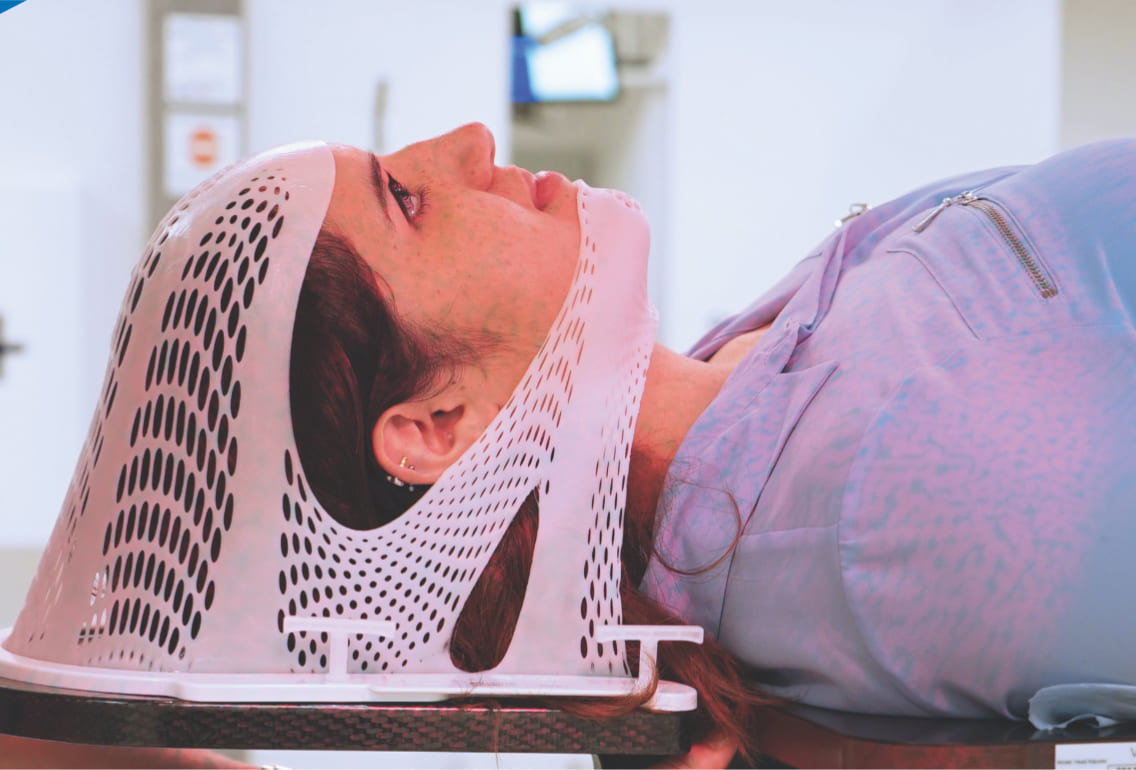 SRS Module
SRS Module
AlignRT®'s stereotactic calibration module allows clinics to deliver the benefits of frameless, open-mask SRS and SBRT/SABR using SGRT.
To deliver the accuracy required for SRS, both an open-face mask (supplied by various companies) and the SRS calibration cube (supplied by Vision RT) are required.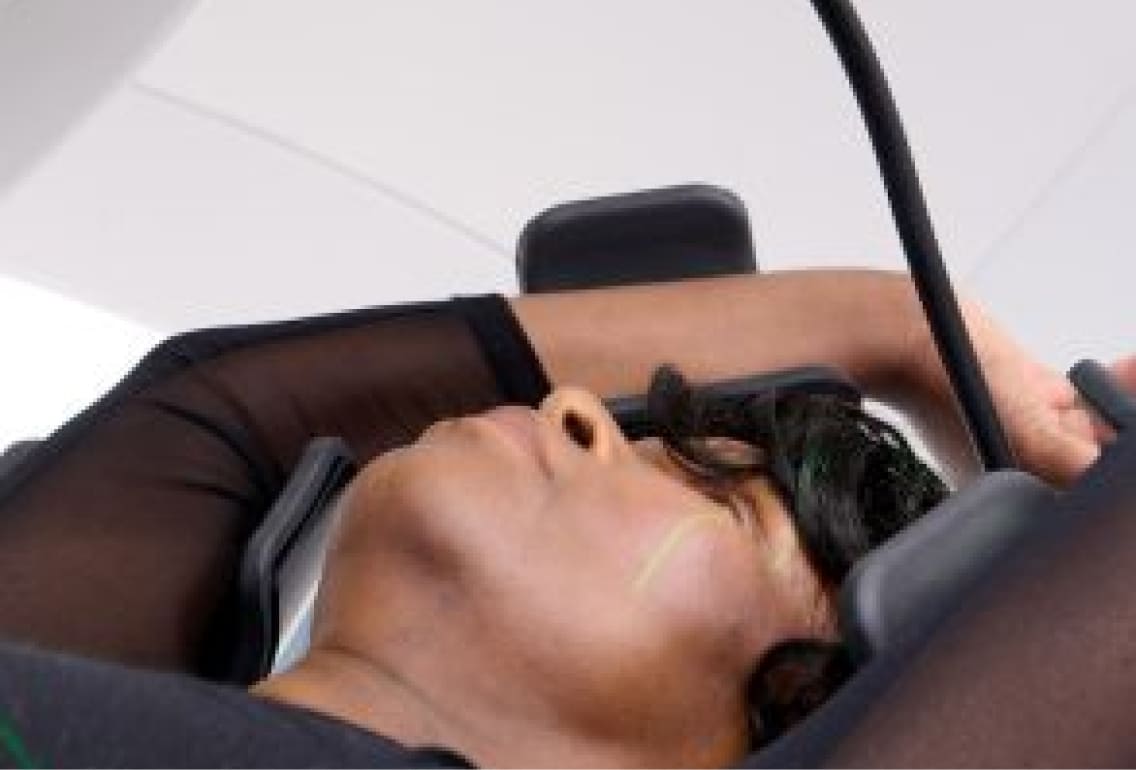 The Real Time Coach display
Give your patients simple and clear feedback on their breathing with the Real Time Coach™ display. Easily positioned in the patient's field of view, the display gives them real-time feedback on their breathing. This can help patients participate in their own treatment, ease their positioning, and help deliver an effective breath-hold for accurate, reproducible therapy.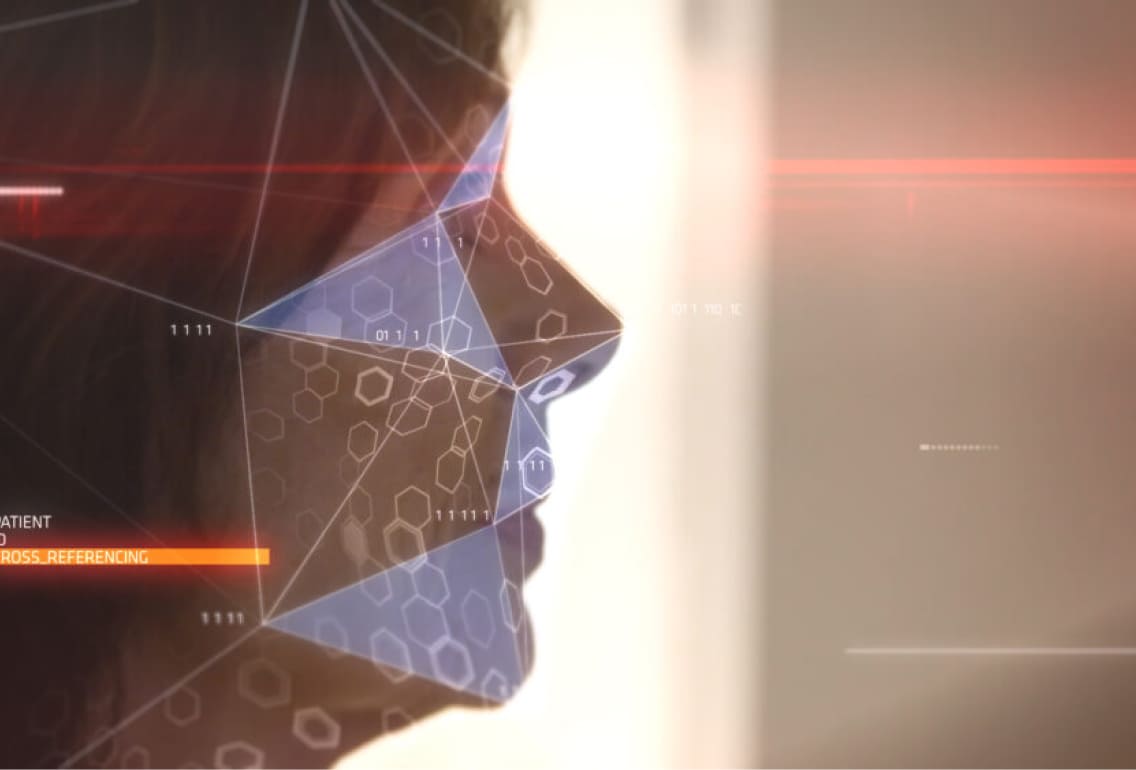 SafeID
SafeID is a contact-free solution for identifying the right patient for treatment.
Improving the accuracy of patient identification and reducing the risk of healthcare-associated infections are two of the key patient safety goals for many modern healthcare systems.
Quick consultation with a specialist
For consultation or a complete catalog, leave your phone number and our manager will contact you shortly.
Consultation
NEW MEDICAL
TECHNOLOGIES KFT
State registration number: 01-09-325412
Tax number: 26347578243
Address: 1133 Budapest Váci út 76, T2 földszint
Tel: +36 70 429 39 29
Mob tel.: +36 20 324 73 21
Email: promo@nmtg.eu
Commercial Director: Szabo Ferenc
Call me back